Issen-Yoshoku
"Issen-Yoshoku" is located near Minami-za Kabuki (Japanese traditional dance performance) Theater. The shop offers Issen-Yoshoku (680 yen including tax), a long- time favorite of Kyoto locals.
Issen-Yoshoku is a type of savory pancake made with a batter mixture of homemade broth and flour grilled over an iron griddle. Chopped Kujo-Negi (one of the Kyo-yasai; traditional vegetables of Kyoto) spring onion, sliced Wagyu (Japanese beef), fresh eggs and seasoned Konnyaku (yam cake) are then used as a topping along with Worcestershire sauce and chopped Nori (seaweed sheet). The sauce and eggs create an excellent flavor. You are sure to become a fan as soon as you taste it.
Sake (rice wine) is an excellent accompinament to this dish. The recommended combination is Issen-Yoshoku and sparkling Sake, which is growing popular among the customers. The slight sweetness of the sparkling Sake highlights the savory taste of the Issen Yoshoku.
Address

238, Gion-machi Kitagawa, Higashiyama-ku, Kyoto-shi
Tel

075-533-0001
Hours

Monday to Saturday 11:00am~3:00am
Sunday and National Holiday 10:30am~22:00pm
Open seven days a week
The recommended Sake:
Sho-Chiku-Bai Shirakabe-gura Mio (sparkling sake): 1,000 yen (tax included)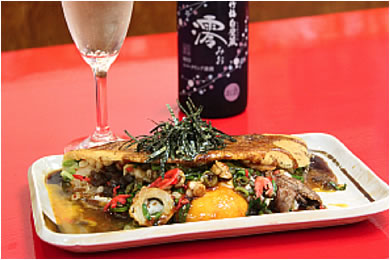 Issen-Yoshoku filled with many delicious toppings. Forks are available.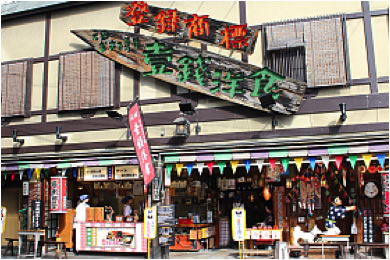 A big signboard and unique mannequins will be waiting for you at the front of the shop.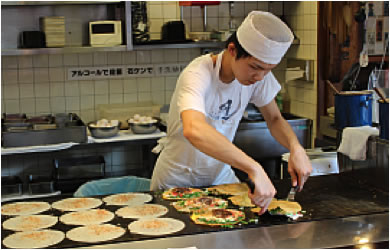 You can watch the chef's live performance of making Issen-Yoshoku on an iron griddle.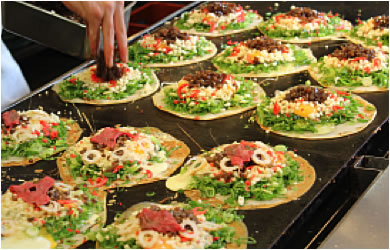 Vegetarian Issen-Yoshoku are also available upon your request.