Hana-wasabi
Savor the looks and taste of Sushi chef's expertise
Hana-wasabi
This restaurant is recommended for those who want to try many kinds of Sushi. Varieties of Sushi including the popular "Aburi-sushi" with grilled fish or seafood are available for those who are not fond of raw items.
The most popular dish is "Okonomi-de-tsukuru Maki-zushi" (Rolled Sushi with your choice of filling). Beside the usual tuna and salmon favorites, you can select anything you like for the filling. The rolled Sushi made by the expert sushi chef is both delicious and beautiful.
Sushi is great with alcoholic drinks; not only Sake but also with Syochu; Japanese distilled liquor. Do try this highly recommended combination.
Address

114, Tominaga-cho, Yasaka-shinchi, Higashiyama-ku, Kyoto-shi
Tel

075-561-7000
Hours

17:00~3:00
Closed: Sunday
Recommended Alcoholic Drinks:
Ikkomon (Imo Syochu; distilled from sweet potatoes) 500 yen (tax included)
Ikkomon-Aka (Mugi Syochu; distilled from barley) 600 yen (tax included)
Sho-Chiku-Bai Gokai (Sake) Glass; 650 yen (tax included)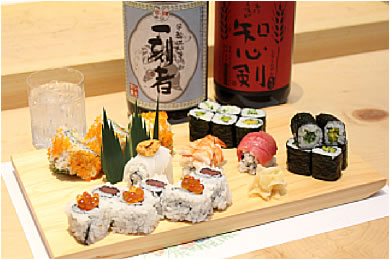 Maki-zushi (rolled Sushi) are available with the filling of your choice.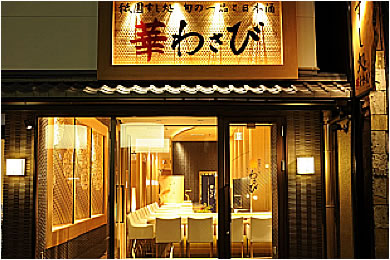 Located in the center of Gion-koubu, the largest Hanamachi (entertainment quarter) of Kyoto.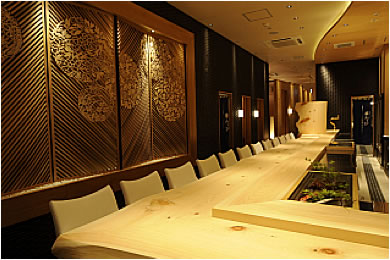 Counter style table is recommended for you to enjoy observing the Sushi chef expertise.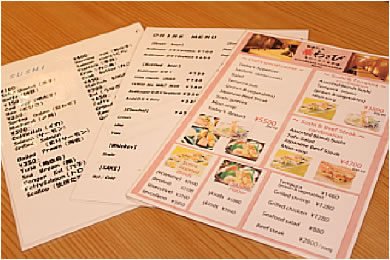 An English menu is available for your convenience.