Kyotobatake
Enjoy carefully selected meat Shabu-shabu style
Kyotobatake
Opened in July 2014, 'Kyotobatake' offers carefully selected meat prepared Shabu-shabu (thinly sliced meat boiled in hot water) or Sukiyaki (thinly slices meat cooked in pot with soy sauce) style.
The restaurant's top recommendation is quality A4 class Wagyu beef Shabu-shabu style with homemade Deziru (Japanese soup made with kelp, dried shitake mushroom, dried fish or bonito flakes) soup. The tender beef and fresh vegetables are delicious and blend perfectly with Dejiru soup. Once tried, you are sure to become a fan of this dish.
As an accompaniment, we would recommend 'Shochu'; Japanese distilled liquor made with potatoes or barley. This is popular liquor in Japan, which can be enjoyed with ice or hot or cold water.
Address

3F Iidaya-sobei bld., 717-3, Higashi-shiokoji-cho, Shimogyo-ku,Kyoto-shi
Tel

075-371-5502
Hours

16:00~24:00
Open seven days a week
Recommended alcoholic drinks:
Ikkomon (Imo Syochu; distilled from sweet potatoes)
Glass; 580 yen, Bottle; 3480 yen (tax included)
Shirashinken (Mugi Syochu; distilled from barley)
Glass; 550 yen, Bottle; 3280 yen (tax included)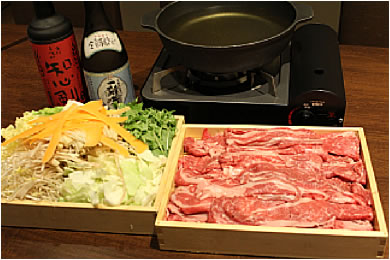 Top selected A4 class Wagyu beef is truly exquisite.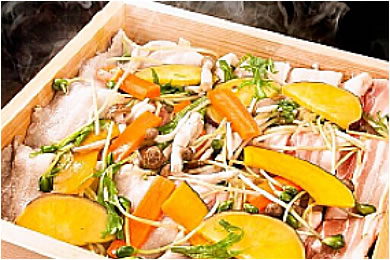 Another popular dish is 'Seiro-mushi'. Aromatically steamed meat and vegetables are delicious.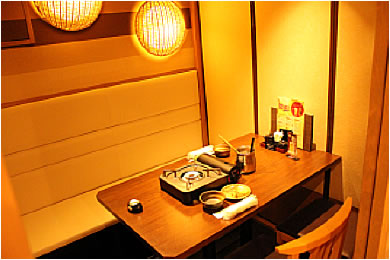 Private rooms are available for families and couples.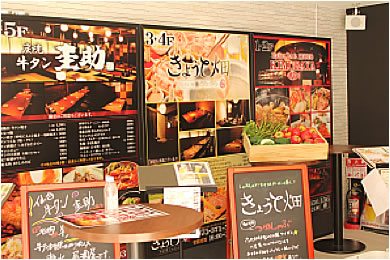 You will see this sign at the entrance. Please come up the stairs to the 3rd floor of the building.